Richard T. De George
---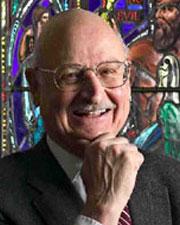 Professor Emeritus, Philosophy
Biography
—
Richard T. De George is University Distinguished Professor of Philosophy, of Russian and East European Studies, and of Business Administration, and Co-Director of the International Center for Ethics in Business at the University of Kansas. He received his Ph.D. from Yale University and he has been a research fellow at Yale University, Columbia University, Stanford University, and the Hoover Institution. He was the Charles J. Dirksen Professor of Business Ethics at Santa Clara University in 1986, and a Visiting Professor at the Graduate School of Business at the University of St. Gallen, Switzerland in 1985.
He has written widely in the fields of political and social philosophy, ethics, and applied ethics, with an emphasis on business ethics and most recently computer ethics. He is the author of over 200 articles and the author or editor of twenty books, including The Ethics of Information Technology and Business (2003); Academic Freedom and Tenure: Ethical Issues (1997); Business Ethics (2005), now in its sixth edition and also available in Japanese, Chinese, Serbian, and Russian; and Competing With Integrity in International Business (Oxford, 1993), also translated into Chinese. He has been the President of several academic organizations, including the American Philosophical Association, the Metaphysical Society of America, the Society for Business Ethics, and the International Society for Business, Economics, and Ethics. He has given invited lectures on six continents at a great many universities and keynote addresses to a variety of organizations both here and abroad, including such places as Tokyo, Como, Barcelona, Rio de Janeiro, and Perth.
In November, 1996, he received an honorary doctorate from Nijenrode University in the Netherlands together with Bill Gates and Nelson Mandela.