Renee Perelmutter
---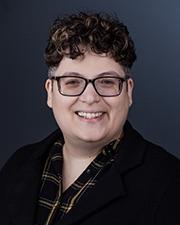 Contact Info
Wescoe Hall, room #2127
Bailey Hall, room #320G
University of Kansas
1445 Jayhawk Boulevard
Lawrence, KS 66045-7590
---
Research
—
Though my graduate work focused on morphosyntax, I am increasingly involved in pragmatics and sociolinguistics research. I am especially interested in the ways that the considerations of facework, identity, and power interact with grammar. My interests in folklore and cultural history inform my pragmatics and sociolinguistics work. Recently I have written on reported speech and impoliteness, both in contemporary and historical perspectives, and am currently writing a monograph on Russian women's discourse online. My languages are Russian, Hebrew, and Yiddish.
Research interests:
morphosyntax
pragmatics
sociolinguistics
languages in contact
Slavic
Russian
Yiddish
Hebrew
multilingualisms
gender
Selected Publications
—
Perelmutter, Renee. "The Founding Fathers' Flamewar: (Im)Politeness and Community in the Russian Blogosphere." Journal Articles, January 2013.
Grants & Other Funded Activity
—
Israeli Russian Online: Contesting Religious Identities through an Immigrant Vernacular. Brandeis University. $2500.00. Submitted 1/31/2016 (10/1/2016 - 5/31/2017). Other University. Status: Funded. A proposal to support my Israeli Russian multiglossia/online project.