Megan Luttrell
---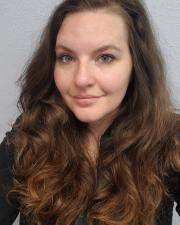 Outreach Coordinator
Program Specialist
Contact Info
Bailey Hall, 320F
1440 Jayhawk Boulevard
Lawrence, KS 66045
---
Biography
—
Megan Luttrell received her PhD from KU in the department of Slavic Languages and Literatures in 2018. She has taught Russian language and literature at the University of Kansas, Indiana University, and Colby College. She is passionate about music, art, and literature, and has organized a number of art and music events for CREES.
As the chair of the Baldwin City Public Library Board, Megan has developed a partnership between CREES and the Baldwin Library, created the Story Time Around the World Series. She also partners with the Lawrence Public Library for Multicultural Story Time, and the Perspectives on Ukraine Series.
As the CREES Outreach Coordinator, Megan Luttrell manages numerous outreach programs and initiatives to the K-12 schools and community. As part of her outreach to schools, she gives presentations on the languages and cultures of Russia, Eastern Europe, and Eurasia. These presentations include speaking to both small and large groups of students, bringing in authentic artifacts, and leading hands-on activities that engage students. On behalf of all the Area Studies Centers at KU, she also leads a foreign language program at the Douglas County Juvenile Detention Center (JDC), bringing in volunteers to teach different foreign languages to youth. Among her other duties, she writes the CREES newsletter, organizes the Spring Festival, promotes CREES events, helps manage CREES social media accounts, and builds partnerships with other KU units and the greater community. 
Education
—
Ph.D. in Slavic Languages and Literatures, University of Kansas
M.A. in Slavic Languages and Literature, University of Kansas
B.A. in Russian Language and Literature, University of Vermont