Geoffrey Husic
---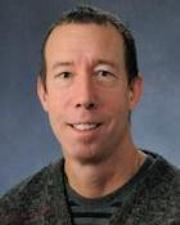 Slavic & Near East Studies Librarian, KU Libraries
Cataloguer and South Slavic Bibliographer
Gretchen and Gene A. Budig Distinguished Librarian
Contact Info
Watson Library, 519
1425 Jayhawk Boulevard
Lawrence, KS 66045
---
Biography
—
Research Areas: Former Yugoslavia, Bulgaria, Albania, Romania, Central Asia
Countries: Thailand, Germany, Russia, Croatia, Macedonia
Languages: Russian, German, BCS, Albanian, Romanian, Persian, Slovene, Thai
Geoff Husic's areas of professional responsibility cover collection development, reference, and instruction for the Balkan Peninsula and the Near East (Turkey, Iran, Afghanistan, Central Asia, and the Middle East) as well as for Linguistics. In addition he is cataloger for materials received pertaining to these world regions.
Research Guides:
LING 321 (Language in Culture & Society)
Middle East Studies / Islamic Studies
Slavic Linguistics Virtual Reference Bookshelf
Teaching
—
My research interests pertain mainly to the Balkan languages (Slovenian, Bosnian/Croatian/Serbian, Macedonian, Bulgarian, Albanian, Romanian, Vlax, Greek, and Romani) and the Balkan Linguistic Union, which is a linguistic concept that examines the syntactic, morphological, and lexicological commonalities that have arisen in these territorially contiguous, but linguistically quite different Indo-European language groups. Within my research in this field I have focused on two specific aspects: the problem of orthographic history, language and dialect variation, and reform, and how the lack of orthographic uniformity and relatively late standardization affect information retrieval in the context of libraries' cataloging and metadata standards, and in bibliographic databases and software utilities.
Selected Publications
—
Husic, G. (2014). Enhancing an Open-Access Linguistics Journal Archive with Library of Congress-like Metadata: A Case Study of the Effectiveness for Improving Discovery. Kansas Working Papers in Linguistics, 35 (2014), 1-8.
Husic, G. (2014). Slavic Linguistics Virtual Reference Bookshelf: A selective bibliography of Slavic language materials that were traditionally held in the Slavic Reference Section of Watson Library.