Erik R Scott
---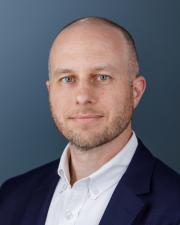 Director
Associate Professor
Contact Info
Bailey Hall, 302
1440 Jayhawk Boulevard
Lawrence, KS 66045
---
Biography
—
Erik Scott studies migration, diaspora, and empire within and beyond the borders of Russia and Eurasia to examine the region's remarkable diversity and reconsider its relationship to the broader world.
His first book, Familiar Strangers: The Georgian Diaspora and the Evolution of Soviet Empire was published by Oxford University Press in 2016, released in paperback the following year, and translated into Russian by Moscow's New Literary Observer in 2019. Familiar Strangers moves past the typical divide between center and periphery, and colonizer and colonized, that guides most scholarship on empire to look at the USSR as an "empire of diasporas." Investigating Georgian political, cultural, and economic networks across Soviet territory, the book views the evolution of Soviet empire from the perspective of its most prominent internal diaspora. The book received the Vice Chancellor for Research Book Publication Award, was an honorable mention for the Council for European Studies Book Award, and a finalist for both the Central Eurasian Studies Book Award and the Joseph Rothschild Prize in Nationalism and Ethnic Studies.
His second book, World Without Exit: Soviet Cold War Defectors and the Borders of Globalization is forthcoming from Oxford University Press. World Without Exit traces the winding journeys of defectors from the Soviet Union to the West through border zones, extraterritorial spaces, and areas at the limits of state jurisdiction, such as international waters and airspaces. In so doing, it reveals how disputes over defectors ended up restricting movement through in-between spaces across the globe and shaping an international refugee regime whose legacy and limitations remain with us to this day.
He received his B.A. from Brown University, his Ph.D. from the University of California, Berkeley, and he has held research fellowships at the Kennan Institute of the Woodrow Wilson International Center for Scholars and Georgetown University's Center for Eurasian, Russian, and East European Studies. He has been awarded grants from the National Endowment for the Humanities, the American Council of Learned Societies, the American Philosophical Society, and Fulbright-Hays, among others. In addition to his historical research, he is the author of several publications on contemporary Russia and Eurasia.
Since 2020, he has served as Editor of The Russian Review.
Research
—
Research Interests
Russia
Eurasia
Soviet Union
USSR
Caucasus
Migration
Diaspora
Nationality
Empire
Borders
Cold War
Organized crime
Teaching
—
Teaching Interests
Russia

Soviet Union

USSR

Caucasus

Modern Europe

Migration

Diaspora

Empire

Cold War