Maggie Williams
---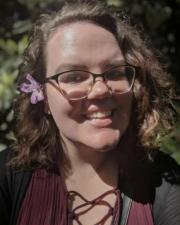 Undergraduate Advising Specialist
Contact Info
Strong Hall, Rm. 109
1450 Jayhawk Blvd.
Lawrence, KS 66045
---
Biography
—
My favorite place on campus is...
The Spencer Research Library; I love the cool, old books!
My favorite place in Lawrence is...
The Jazzhaus - it has a really fun atmosphere with local music and drag shows.
My advice to college students...
Make connections with your professors! Odds are, they share some of your niche interests, and they are also fantastic resources for references and professional connections.
My favorite KU memory...
I studied abroad the summer after my junior year and met some of the best people, who are still my friends to this day. Toward the end of our study abroad trip, we spent hours on Portobello Beach in Edinburgh and all ran into the freezing ocean as a last hurrah.
Education
—
B.A. in English with an emphasis in Creative Writing, University of Kansas